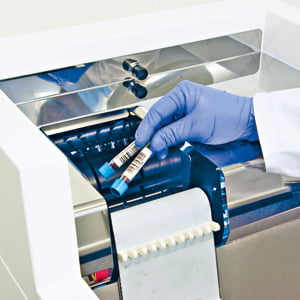 SortPro
Sorting bulk to bulk
New standards in pre-analytics
No device can capture and allocate the flood of samples in the clinical laboratory faster and more comprehensively than the ASP SortPro bulk sorter, which was developed to sort twice as fast and more gently than was previously possible.
ASP SortPro, it is the only sorter intelligent enough to assess the quality of the delivered samples and can thus help to avoid erroneous diagnoses and downtime in analytics due to defective sample material.
At the same time, it uses its computing power to support laboratory work wherever it can and for detailed documentation of each individual sample and all work steps, rather than making high demands on its process environment.
The SortPro thus exceeds all previous standards for the automated acquisition of samples in everyday laboratory work. Because it is consistently geared towards increasing efficiency in the laboratory and reducing the workload of personnel, the investment in an ASP SortPro pays for itself in the short term.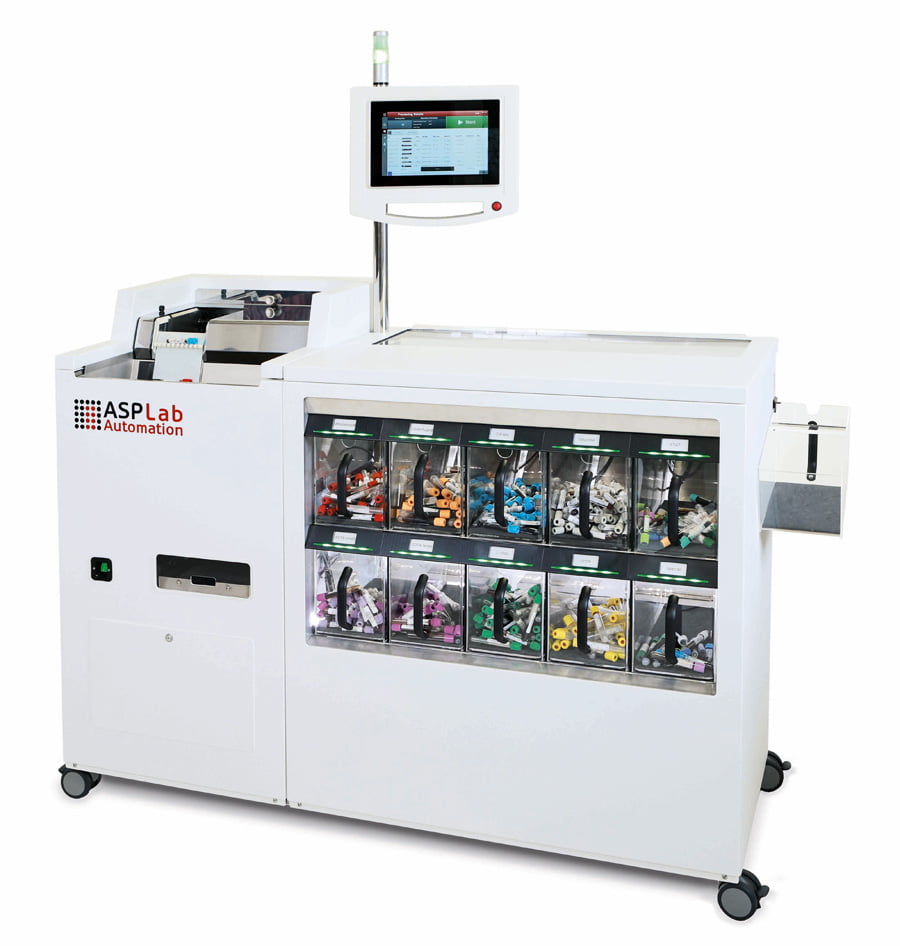 Detailed informations SortPro.
Comprehensive sample detection and testing
Replace manual entry of special materials with automatic recognition of multiple features.
With a single intelligent optical detector, SortPro not only detects the usual sorting criteria on the market, such as barcodes or cap colors. Rather, it can also reliably identify all special materials and check the quality of the delivered samples. For this purpose, a 360˚ scan is generated from each sample and evaluated by the device in real time. With this technology, not only can all samples arriving in the laboratory be automatically recorded and sorted for the first time, but defective samples can also be removed from the processing procedure at an early stage.
tube type and manufacturer, centrifugation status or the complete engagement of the punches of aspiration blood sampling systems (e.g. Sarstedt), … SortPro checks the quality of the sample material. Error-free and every second.
Faster processing
In order to meet the increasing demands of everyday laboratory work with faster processing of an increasing sample volume, the SortPro is designed for maximum processing speed. With up to 3,600 samples per hour, SortPro sorts twice as fast as its previous model or sorters from other manufacturers and, on the one hand, can significantly speed up urgent processes and, on the other, replace two other sorters in volume processes.
He also handles the specimens with particular care. To this end, it moves the vast majority of specimens only once and avoids unnecessary position changes in the processing process. This fulfills the requirement for gentle and low-vibration processing and at the same time shortens the processing time of each individual specimen.
Intelligent data acquisition
SortPro creates complete documentation of all its operations and every single sample processed, indicating the destination assignment. It documents the delivery status of each tube with a high-resolution 360˚ image. This data can be provided to the LIS and is available for export for free further processing. Statistical evaluations and searches for individual samples can be performed directly in SortPro.
With the lowest possible error rate, fastest possible incoming stamp and comprehensive documentation, SortPro thus offers quality assurance at the highest level in real time, without generating additional costs or workload. SortPro thus opens up new possibilities in quality management and for process optimization.
Optimal process integration
The SortPro is perfectly organized around its job. It talks to its human colleagues in plain language and reports precisely when and where it needs their support. He learns new processes or sample types in no time at all and actively helps to find individual samples. If he recognizes a duplicate sample, he immediately knows what to do with it.
Continuously present operator personnel are not intended for SortPro. The innovative sample handling in the instrument makes manual intervention almost completely unnecessary. When SortPro requires operation, it communicates its need in detail and unmistakable to make as little work as possible for laboratory personnel.
It is also designed so that samples can be refilled and removed at any time during operation. As soon as there are samples to be sorted, SortPro starts and stops as soon as its task is completed.
Its built-in intelligence not only enables SortPro to set standards in sample identification, but also actively supports ongoing processes in the laboratory in many ways. This includes, in particular, the detection and differentiated processing of duplicates and faulty sample material. If sample material or sorting specifications change, SortPro can be reprogrammed by laboratory personnel without having to call the ASP service.
Easy implementation in any laboratory environment
SortPro is configured individually for each laboratory environment and can be adapted to changing laboratory processes at any time.
Individual configuration
The SortPro can be freely configured for 5 to 16 sorting destinations and adapted with various options to the individual tasks at its place of use.
Can be used in any laboratory process
SortPro is IVD independent and can be combined with any LIS. It can process all standard cylindrical sample containers.
Adaptable programming
The SortPro's sorting rules can be freely edited by laboratory personnel. Multiple rules can be saved and recalled at any time.
Universal and future-proof detector unit
The optical detector unit can detect any visual coding and features of the samples with only a single 360 ˚Scanner. Any subsequent change in the features to be detected can be implemented via a software update.
Low space and power requirements
The SortPro basic unit is very compact, starting at 1.2 m wide and 0.6 m deep. Weighing only 120 kg and with a connected load of 250 W, it can be easily installed in any laboratory.
Benefits in laboratory use

Timely documentation of material receipt

Sort out defective samples

Workflow-optimized sorting of samples

Personnel relief

Error reduction

Shortening TAT

Increased process reliability

Optimized machine utilization
Continuous flow, FIFO and priority for urgent samples

Sorting performance of over 3,000 samples/hour

Freely configurable sorting rules

Scalable number of 6 to 10 target areas

Gentle processing of the samples

Immediate processing of urgent samples

Complete documentation of all sorting processes
Tube type detection TubeIdent
With the expansion module TubeIdent for the detector unit, SortPro is able to differentiate between samples by cap color and tube shape. Over 16 million colors are recognized, as well as color combinations (tiger caps). The length, thickness and shape of all commercially available tube types can be differentiated. In this way, even the most complex sorting criteria can be mapped and implemented in the sorting rules of the device.
External test bin
In order to be able to use an additional target bin in the device, the external test bin is mounted on the right exit of the device. It holds approx. 100 samples and can easily be emptied without interrupting the running process in the device.
Handheld scanner
With the handheld scanner, individual samples can be quickly acquired or checked without integrating them into the SortPro sorting process. This scanner on the SortPro is the fastest connection between a manually available sample and the LIS.
PhotoIdent
In order to collect and archive the documentation of the processed samples centrally in the LIS, this software plug-in can be used to automatically transfer the image data from SortPro to the LIS.
SortProMessage
With the mobile phone module (SIM card is not included in the scope of delivery), it is possible to have current status messages from the device sent as SMS to alert users who are not directly on the device.
For each phone number, an active time window for the notification can be defined and the messages to be sent can be selected.
Function
Number of sorting targets
6, 8 or 10 sorting bins + 1 extra bin, depending on configuration
Capacity input hopper
Approx. 600 tubes
Target bins
Capacity 150 to 200 tubes, dependent on sample size
Filling level monitoring and display (green / red)
E-Ink Display, text freely programmable, individual for each sorting rule
Processing speed
More than 3,000 tubes per hour, dependent on IT environment
Priority Input
Urgent samples are processed immediately without interrupting ongoing operations
Operating unit
10" touchscreen with color display
Sorting criteria
Barcode
Patient request (LIS)
Cap color (optional)
Tube type (optional)
Allowed tube sizes
All common cylindrical tubes typically used in clinical labs
Length (incl. cap): 70 – 120 mm
Diameter: 8 mm – 19 mm (with cap)
Barcode
1D up to 16 digits (2D upon request)
Code 128, Codabar, Code 39/93, UPC A, Interleaved 2 of 5, EAN-13,
Code 2 of 5, GS 1 DataBar Omnidirectional/ Expanded/ Limited
Documentation and statistics
Saving complete sorting logs incl. image of each sample, statistical evaluations, maintenance management and service protocols
Specification
Dimensions
W x H x D 1,117 x 1,852 x 601 mm for 6 sorting bins
For each 2 extra sorting bins + 170 mm, external bin + 159 mm
Weight
Ca. 120 kg for a 6 bin instrument
Noise level (ISO 6081)
< 54 dB(A)
Supply voltage
100 – 230 V / 50 – 60 Hz
Power consumption
250 VA
Sorting rule interface
USB memory interface, e.g. USB flash drive
LIS interface
Ethernet / RJ45; ASTM protocol