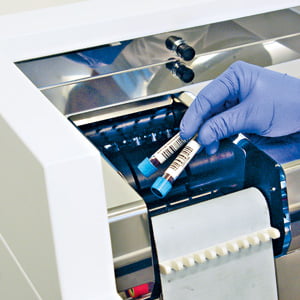 Pre-analytics, preparing samples
Open blood samples
DeCap sample opener, semi and fully automatic opening of blood sample tubes in analysis racks
Removing the caps from vacuum blood collection tubes can become a bottleneck in laboratory processes and risk the safety of employees in several ways.
Prevents bottlenecks in the laboratory process and contributes to employee safety.
The devices of the DeCapping family avoid the risk of chronic overload syndrome (repetitive stress injury) and combine safety and simple operation through efficient and hygienic handling of samples.
The devices of the ASP DeCap series automate this process and thus ensure safety and trouble-free operation.
The compact devices are designed in such a way that they can be placed close to the analysis stations to avoid transporting and longstanding open samples.

Detailed informations decapper Pluggo.